---
john r. mabry home page >> | articles, lectures & essays | biography | books | fiction | music | poetry | sermons | vocation | home
---
books
as author
---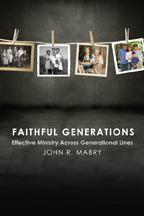 FAITHFUL GENERATIONS: EFFECTIVE MINISTRY ACROSS GENERATIONAL LINES
(Ministry; Morehouse Publishing, 2013)

One size does not fit all, especially when it comes to ministry. Although much work has been done researching generational differences by social scientists, few people have applied this knowledge to religious life and ministry. In this book, John Mabry looks at the various generations alive today: the G.I.'s (born 1901-1924), the Silents (1925-1942), the Boomers (1943-1960), Xers (1961-1981), and Generation Y (1982-2001). He looks at the formative events shaping the consciousness of each generation, providing a glimpse into their inner worlds, and supplemented by extensive quotes from interviews with people belonging to these generations. He then turns to the distinctiveness of each generation's spirituality, providing clear advice for understanding, empathy, and effective ministry. An ideal guide for pastors, spiritual directors, chaplains, and others providing spiritual care to people of various ages.


---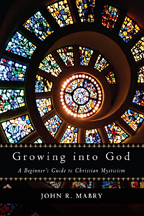 GROWING INTO GOD: A BEGINNER'S GUIDE TO CHRISTIAN MYSTICISM
(Spirituality; Quest Books, 2012)

When people hear the word "mysticism" they often think of arcane secrets and occult knowledge, but true mysticism isn't sinister or even a secret. In fact, however, mysticism is at the heart of an authentic Christian life. Mysticism is nothing more and nothing less than the pursuit of—or enjoyment of—union with God, which is the goal of all Christian spirituality. In Growing Into God, Mabry "de-mystifys" mysticism, offering a user-friendly introduction for beginners. Along the way he explores the classic three-fold mystical journey—Purgation, Illumination, and Union—and relates the stories of many Christian mystics (such as Julian of Norwich, John of the Cross, and many others), offering practices that will assist beginners and veterans alike obtain a closer connection with God.


---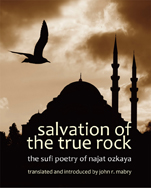 SALVATION OF THE TRUE ROCK: THE SUFI POETRY OF NAJAT OZKAYA
(Poetry; Apocryphile Press, 2012)

Najat Ozkaya was born in Konya, Turkey, in the 14th century CE. His father was a Sufi teacher, and Najat assumed his mantle upon his death.
Najat's poetry is similar to the Sufi poetry of Rumi or Hafiz, centered on the relationship of the soul with its Beloved, Allah. Najat's writings were thought to be lost to the world,
until religion scholar John Mabry discovered a hand-copied manuscript in the Bu Bir Şaka mosque. Translating in the free, contemporary style of
Coleman Barks' Rumi or Daniel Ladinsky's renderings of Hafiz, Mabry has brought Najat back to life, restoring his challenging yet oddly comforting poetry to the world.
(NOTE: This is played straight, but is actually a hoax, a joke; John is the author, not a "translator")


---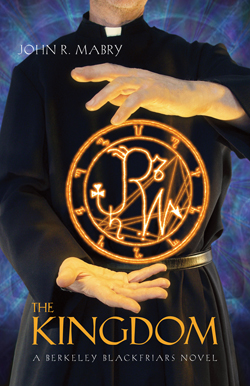 THE KINGDOM: A BERKELEY BLACKFRIARS NOVEL
(Fiction; Apocryphile Press, 2010)

The Berkeley Blackfriars are not your standard-brand priests—they swear like longshoremen and aren't above the occasional spliff or one-night stand—
but if you've got a nasty demon on your ass, they're exactly the guys you want in your corner. A thrill ride from beginning to end, THE KINGDOM combines
suspense, tragedy, whimsy and horror in almost equal measure. Its world is peopled with characters that are poignant, complicated and maddeningly human.
Laced with a rich mythology worthy of "Buffy the Vampire Slayer" and the smart religious iconoclasm of Garth Ennis' Preacher comic book series,
THE KINGDOM is an utterly unique adventure.


---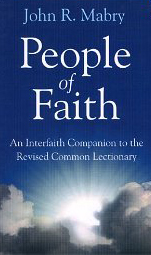 PEOPLE OF FAITH:
AN INTERFAITH COMPANION TO THE REVISED COMMON LECTIONARY
(O Books, 2010)
A handy resource to help foster a sense of kinship between Christians and other faith traditions. For each Gospel reading of the three-year common lectionary cycle,
this book provides a "sister" reading from the scriptures of a non-Christian religion. Each selection is thematically related to the Gospel reading assigned for the day.
A short summary of each gospel reading is also provided.
---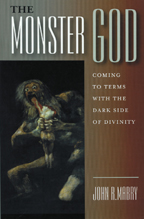 THE MONSTER GOD:
COMING TO TERMS WITH THE
DARK SIDE OF DIVINITY (O Books, 2008)

The God of anger and judgment has been with us since the dawn of time, and surfaces widely today in the theology and experience of believers of all kinds. This personal memoir provides a refelctive, easy-to-read theological and philosophical analysis of how this God came to haunt our collective imaginations, how we can come to terms with him and where we go from here. It explores the darker aspect of the divine in many of the world's Native traditions, as well as in each of the three dominant religions in the West: Judaism, Christianity, and Islam, with a brief foray into other religions like Zoroastrianism and the mythology of the Hindus. It covers the nature of evil, the gods of wrath, betrayal, and genocide, and the shadow side of God, Satan. It examines the implications of the Monster God for people of faith, and attempts a reconciliation of God with us.




---

THE WAY OF THOMAS (O Books, 2007)
What were Jesus' original teachings, and how do they differ from the story told by the Christian church? What is the real story of early Christianity? Can we find a Jesus that is relevant as a spiritual guide for people today? These and many other questions are addressed in this popular presentation of the teachings of this mystical Christian text. With the discovery of the Gospel of Thomas in 1945, scholars now believe we have a document closer to Jesus' actual words than we have ever possessed before.
Open yourself to the wisdom of Jesus in Thomas and allow these sayings to seep into your soul.
--John Beverley Butcher, author of The Tao of Jesus
Read The Way of Thomas. Compelling and well-written, this book will broaden the Jesus debate of our century.
--John Shelby Spong, author of The Sins of Scripture


---

FAITH STYLES: WAYS PEOPLE BELIEVE
(Morehouse Publishing, 2006)
Everybody's unique ­ especially when it comes to the ways they approach and understand the divine.
Here spiritual director John Mabry explores the many styles of faith that characterize believers from all religions.
From the traditional faithful to the spiritually eclectic, Mabry examines the various modes of believing and offers spiritual directors
ways to use this knowledge to work with their clients. This is a fascinating ­ and non-hierarchical ­
look at the meaning of faith in real people's lives.
The book divides believers into six broad styles and provides a discussion of each
­ along with an illustrative case study. Also included in each section are useful guidelines for believers in each of these style groups ­
and those who travel between the groups in their search for the divine.


---

NOTICING THE DIVINE: AN INTRODUCTION TO INTERFAITH SPIRITUAL GUIDANCE
(Morehouse Publishing, 2006)

An essential textbook for beginning spiritual directors, NOTICING THE DIVINE utilizes wisdom from the religions
of the world to teach the basic skills needed to offer spiritual direction to people of all traditions. It introduces the
foundational concepts and techniques for responsibly and professionally practicing the art of spiritual guidance.

---




GOD HAS ONE EYE: THE MYSTICS OF THE WORLD'S RELIGIONS
(Apocryphile Press, 2006)

Mystics are not popular amongst the orthodox of any religion. In fact, almost every one of the religious leaders who founded world religions began their careers as mystics who spoke about what they had seen, and were promptly declared heretics. Just think of the Buddha, of Jesus, or of Muhammad. All of them were heretics, all of them were mystics, and all of them changed the way we view reality. Once the mystical vision hits you, you realize that everything you thought you were is a lie, that the universe you thought you were living in is gone, and that all the rules and structures by which you ordered your life are meaningless. It is disorienting and painful. There is no lazy man's path to enlightenment, because once enlightenment hits, the lazy man no longer exists, and the luminous being which has taken his place is beyond recognition, even to himself.

---




GOD IS A GREAT UNDERGROUND RIVER:
ARTICLES, ESSAYS & HOMILIES ON INTERFAITH SPIRITUALITY
(Apocryphile Press, 2006)

The Reverend John R. Mabry, PhD has been writing on interfaith issues since 1990. His ground-breaking column, "Deep Ecumenism," was one of the most popular regular features of Matthew Fox's Creation Spirituality magazine for many years. Those columns are collected in this volume, along with many other essays, articles, and homilies, each of which contrast and illumine the wisdom of various faith traditions. Mabry holds a doctorate in world religions and teaches interfaith theology at the Chaplaincy Institute for Arts and Interfaith Ministry in Berkeley, CA. He is the author of many books on interfaith spirituality and ministry.


---




I BELIEVE IN A GOD WHO IS GROWING:
PROCESS PERSPECTIVES ON THE CREED, THE SACRAMENTS, AND THE CHRISTIAN LIFE
(Apocryphile Press, 2006)

Process Theology is one of the most compelling and exciting movements in contemporary theology, and it is taught in
nearly every seminary in the United States. But very few people in the pews have ever heard of it. Why is this, and can
ordinary Christians benefit from its unique insights? In this series of sermons, the Rev. Dr. John R. Mabry provides an
entertaining and coherent introduction to process thought and interprets the most fundamental aspects of Christian
theology--including the Apostle's Creed and the Sacraments-in light of its unique perspective.

---




WHO ARE THE INDEPENDENT CATHOLICS?:
AN INTRODUCTION TO THE INDEPENDENT AND OLD CATHOLIC CHURCHES
Co-authored with John P. Plummer (Apocryphile Press, 2006)

Independent Catholics are the fastest-growing variety of Catholic in the West. They are found in every city of every state in the U.S. and Mexico, every Province of Canada, and throughout Australia, Europe, and South America. This book arises out of a need in the Independent Catholic community for a compact and concise introduction to the movement. This is intended to be a book that can introduce interested people to the movement in a friendly, easy-to-read style that will not tax their patience or their wallets. The Independent Catholic movement is wonderfully diverse, and it is not possible to adequately cover the full spectrum within an introductory volume of this size. Rather, this book focuses on the most common varieties of Independent Catholicism in hopes of providing a short, useful orientation to the newcomer.

---

CRISIS & COMMUNION (Apocryphile Press, 2005)

The story of Eucharistic Re-mythologization, tracing the evolution of the Lord's Supper throughout Christian history.
Shows how every time the church came into crisis, its understanding and practice of the Eucharist shifted to help meet the crisis.
You can order a copy from Amazon.com by clicking here.

---

HERETICS, MYSTICS & MISFITS (Apocryphile Press, 2005)

A collection of sermons on the famous and infamous in the history of Christianity.
You can order a copy from Amazon.com by clicking here.

---

THE LITTLE BOOK OF THE TAO TE CHING (Element/Penguin USA, 1995)

This profusely illustrated "little book" contains roughly half of my translation of the Tao Te Ching, and is quite beautiful and handy for meditating. You can order a copy from Amazon.com by clicking here.
---
GOD AS NATURE SEES GOD (Element/Penguin USA, 1994)

This book features a new translation of the Tao Te Ching, with eight chapters on how Lao Tzu's teachings and Jesus' are in sync. A good introduction to Taoism for Christians. You can order a copy from Amazon.com by clicking here.

---

as contributor

---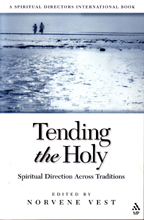 TENDING THE HOLY (Morehouse, 2003)
Edited by Norvene Vest.
Contrubution: "The Care and Feeding of the Gen-X Soul"
---
SPIRITUAL DIRECTION IN CONTEXT
(Morehouse Publishing, 2006)

Edited by Nick Wagner.
Contribution: "Compioning People with Dementia"
with Rita Hansen and Robert B. Williams

---




WHAT DOES GOD LOOK LIKE
(IN AN EXPANDING UNIVERSE?)
(ImagoEarth Publishing, 2006)

Edited by Jim Schenk
Contribution: "Cyberspace and the Dream of Teilhard de Chardin"